Schools
With over a thousand school performances in the Denver metro area and throughout the state of Colorado. Afex understands how to keep elementary, middle school, and high school crowds engaged. Prices are affordable. With an array of school packages available. Check your date for availability and receive an instant no obligation price-quote.

High School
Homecoming, Morp, and Prom.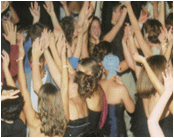 Middle School
CSAP dances, talent show parties, and regular school dances.

Select your event date to instantly check availability, prices, and request additional information without obligation.
Afex DJs - The School Pros
We use only radio edited song selections and are aware of inappropriate songs that should not be played due to language content.
We stay current with all the music preferences of teens. However, we always respect and comply with the school administration's guidelines.
We don't require full payment until the day of the dance.