About Afex DJs
Our philosophy begins with allowing the client to pick and choose the appropriate DJ package for their needs. We offer a full-line of disc-jockey, karaoke, master of ceremony, lighting, and sound reinforcement services. When booking our services the Afex DJ system will create a personalized online event planning account. This account includes online planning forms that can handle the important details regarding your special occasion. Timeline forms that will help us keep the event running smoothly. It's like getting an event planner for free!
Online Music Selections
Freedom to pick a DJ package is how we run our business. Moreover, ability to take your pre-selected music requests in advance of the event is our forté. Your music choices can be broken down in three categories: Must play, play if possible, and do not play. So, yes, you can ask for the "Chicken dance" not to part of the party. It is all up to you!
DJ Packages
Starter DJ Package - great for a small gathering of less than 30 people.
Bronze DJ Package - known as our "Bargain" package. No frills, just sound. With a small to medium audience equipment rating. Often gets booked 6 to 8 months in advance.
Ruby DJ Package - this is our "Popular" package. Good for up-to 130 people or less. Includes wireless microphones and a DJ lighting setup. Consistently will get booked 6 to 12 months in advance.
Silver DJ Package - great for a larger event that may have over 150 guests. Additional sound reinforcement that will be customized to the venue. Wireless microphones and a DJ lighting setup.
Gold DJ Package - Unlimited package possibilities that may include your choice of unlimited hours, video, ceremony, karaoke, or special DJ lighting.
Select your event date to instantly check availability, prices, and request additional information without obligation.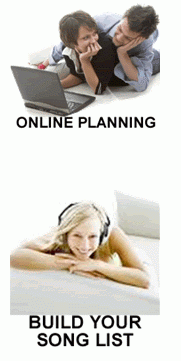 "Awesome job Afex! We really enjoyed having you at our event. The music was great and it really helped establish a wonderful atmosphere. Thanks again!" - Judit with (JCOR), Counselor Organization of Ryla.
---
"Blaine was our DJ, and we were very happy with the work that he did. The cues that he gave, the music he played and his interaction with everyone was very professional. In fact, we were so impressed, that we would like to have him come back for another occasion…" - Debbie Mueller, USAA Colorado Springs
---
I misplaced the song list for Jim and told him the type of music to play, he hit it right on! I had many comments on the great DJ. Thank you! - Mr. & Mrs. Whitney, Fort Morgan, Wedding